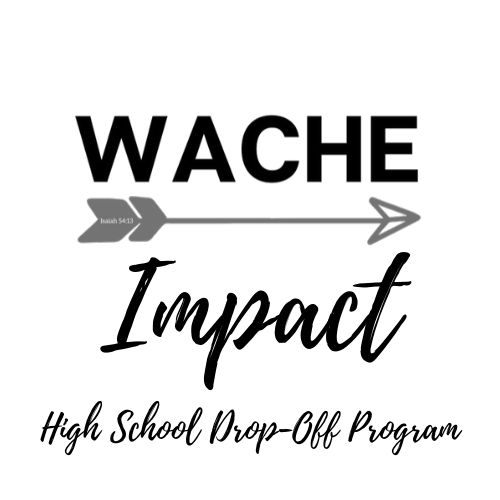 IMPACT Drop-Off Program
WHAT:
Our desire for the IMPACT program is to give upper-level students more options for learning opportunities without the requirement of a parent being on campus. Space for the program is limited.
ELIGIBILITY:
High school students, grades 9th-12th, who are at least 14 years of age, may participate in the WACHE IMPACT high school drop off program.
COST:
The IMPACT program registration fee is $100. Parents must sign a waiver of release. Both parents and students must agree to and sign a code of conduct
PROCESS:
The family must complete all steps necessary to join the WACHE organization.
The parent must contact the School Director wacheschool@wacheweb.org to make sure space is available and that registration fees are adjusted accordingly.
After that process is complete and space availability is approved, the parent can register the student through the WACHE school registration site.
The WACHE School Liability Waiver and Code of Conduct are required to be signed and can be found after registering with the WACHE school registration site.
High School Graduate Track
Our high school academic classes are taught by experienced, passionate teachers who present challenging curriculum necessary to fulfill high school credits. Numeric grades will be provided to each student for their transcript.
To make the high school academic classes possible, we offer rotations of courses every other year so that students in grades 9th-12th can start at whatever point they need.